IT service management (usually referred to as ITSM) is the set of practices involved in implementing, delivering, managing and improving IT services according to the specific needs of an organisation. ITSM goes beyond traditional IT support, focusing on end-to-end technology management and customer satisfaction.
ITSM teams manage all workplace technology, from hardware to servers and business-critical applications. Businesses can use ITSM practices to react quickly to change and innovation, cut costs, increase efficiency and reduce the occurrence of IT issues. Some of the practices used in ITSM have become common in enterprise service management beyond IT, which goes to show how important ITSM is to streamline vital business operations.
According to the ITSM 2022 Benchmarking Report by AXELOS, about 50% of organisations feel that they still need to improve in order to achieve a suitable level of ITSM maturity, which is why IT teams need to stay up-to-date on best ITSM practices and processes.
This insight covers everything you need to know about ITSM – from different ITSM frameworks and their benefits, to best practices and how to develop an ITSM strategy.
What is the purpose of ITSM?
Ultimately, the purpose of ITSM is to align the IT team's goals with the wider business strategy and objectives. There are many different ways to approach ITSM according to industry standards and frameworks.
ITSM encompasses a range of different services and processes, aiming to increase efficiency and improve end-user satisfaction. A common ITSM scenario, for example, is an employee asking for a new laptop. They would log into a portal and fill out a ticket with their request which would then be submitted to the IT team, starting a repeatable workflow.
Further examples of ITSM services include:
IT service desk – This usually involves an automated online chatbot that can answer common IT questions. Sometimes, predictive artificial intelligence and machine learning are used to respond to requests.
Analytics tools – These tools can be implemented to help companies monitor and improve performance, predict trends and better distribute resources by visualising and gathering their data in a single location.
Service requests – Fulfilment of formal requests for services such as password resets.
Incident, problem, and asset management – This enables IT teams to restore services quickly after a disaster, prevent IT issues from recurring, and manage all relevant assets.
The next section looks at some of the benefits of ITSM for IT teams and businesses more widely.
Upgrade to our top-class IT service desk.
Benefits of ITSM
ITSM offers a variety of advantages that make it easier for IT teams to manage workload and achieve high-quality results faster. As a result, the business benefits from an IT team that can react to change and understand what the organisation needs.
Benefits for IT teams:
Automated and scalable processes
Ability to prevent IT issues
Faster resolution times when issues occur
Increased end-user satisfaction
Improved performance thanks to analytics
Benefits for businesses
Ability to react quickly to changes in the market and in business objectives
Increased employee productivity and better IT support
ITSM saves time, money and resources while improving the quality of results and services
Regulatory compliance
Save money and boost productivity with our IT services.
At ROCK, we work with clients from all industries to remove the burden of day-to-day IT requirements, reduce costs, boost growth and digital transformation. For example, we were approached by a marketing agency struggling with missed deadlines and client complaints due to poorly managed collaboration tools.
ROCK focused on enhancing the agency's digital strategy and relieved its internal IT team from the burden of technology, leading to a 10% increase in productivity and user satisfaction, 20% fewer missed deadlines, 43% fewer client complaints, and a 74% improvement in employee satisfaction. ROCK installed video conferencing tech, provided staff training, and identified project management software to assist with meeting deadlines and responsibilities.
"At ROCK, ITSM is key to run our Service Desk. It allows us to identify and correctly prioritise clients' incidents and requests while meeting our SLAs. We are constantly looking at continuous improvements for our clients, highlighting trends and recommending solutions to improve efficiency and reduce overall demand. It's a fast-paced environment, but with a great team of engineers, and following ITSM practices and industry standards, we are proud to deliver a high-quality service to our stakeholders."

Jamie White, Senior Service Manager at ROCK
In order to reap the benefits of ITSM, companies need to choose the right approach for their business. The next section looks at the most common frameworks and industry standards for ITSM.
ITSM frameworks
ITSM frameworks provide a blueprint for IT teams to implement and adapt IT services across their organisation. These guidelines make it easier to adhere to industry standards and avoid wasting resources. Here are four of the most common industry-recognised ITSM frameworks:
ITIL
ITIL originally stands for Information Technology Infrastructure Library, but the acronym is now accepted as a standalone term. This framework has continual improvement as its ultimate goal and provides instructions to use IT for different purposes such as business development and transformation. ITIL 4 is the latest version of the framework, which takes into account recent requirements such as DevOps and cloud computing, with an emphasis on digital transformation.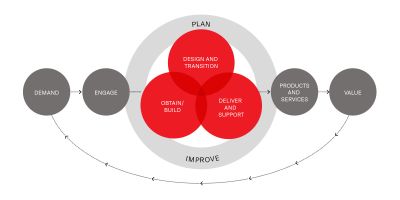 DevOps and Agile
DevOps and Agile are a set of practices and tools based on automating and integrating processes between software development and IT teams. While many see ITIL and DevOps as two completely separate frameworks, organisations greatly benefit from using them together, as DevOps provides a reliable automated framework for software and application development. The DevOps lifecycle is generally represented with a loop, emphasising the need for constant collaboration between IT and development teams.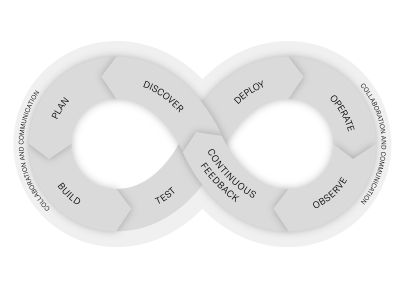 ISO 2000
ISO 2000 is a process framework providing a single global standard for different operations. This ITSM framework originates from ITIL and can be used alongside other frameworks to ensure organisations have adequate service and compliance levels.
Six Sigma
Six Sigma is a versatile management framework that is also used beyond IT for a range of operational purposes. It involves collecting and analysing data to improve processes, products and outcomes. Companies can use it to improve their customer service as well as their internal capabilities.
ITSM processes
ITIL is the framework that regulates the most widely used ITSM processes. This section defines some of them.
Service desk is the point of contact that handles incidents and requests.
Incident management, which includes the processes to restore services after a disaster and/or unplanned downtime.
Request fulfilment, which involves providing or upgrading software, hardware or network access.
Change management, which involves keeping infrastructure and application changes under control to avoid disruptions for the end user
Problem management, which involves preventing incidents or managing their impact
Service asset and configuration management, which involves monitoring and documenting the configuration of all IT assets in a company
Knowledge management, which improves decision-making through sharing ideas and information to optimise resources
Service-level management, which relates to the negotiation of service level agreements (SLAs), including elements such as ticket resolution times.
ITSM tools and technologies
Processes are carried out thanks to ITSM software. ITSM tools range from single applications to platform services. What you choose is fundamental to develop your organisation's ITSM capabilities, especially when it comes to the service desk. The service desk handles the majority of ITSM processes and is the main interface between IT teams and end users.
In order to guarantee the best service, your ITSM tools should be:
Easy to use, with an intuitive interface that allows teams to log requests, track progress and access knowledge
Flexible to enable collaboration between IT teams, developers and other departments to solve issues as quickly as possible.
Adaptable for any escalation or change processes
Choosing the right ITSM tools is the first step to building an effective ITSM strategy. We detail the process in the next section.
How to develop an ITSM strategy
Here are five steps to an effective ITSM strategy:
1. Create a Configuration Management Database (CMDB)
A CMDB is a fundamental component of the ITIL framework. It is a data repository that stores all the information about a company's IT infrastructure, built for configuration management. When creating a CMDB, ensure that you establish the correct level of data governance and that all information is updated regularly.
2. Choose a framework and implement industry standards
Choose a framework that complies with industry standards such as the ones we have outlined in this article. The ITIL best practices for problem management, incident management and change management are the most adopted across the industry.
3. Identify pain points and solutions
When you start building your ITSM strategy, identify vulnerabilities and possible solutions to overcome them. While your strategy will require constant updates, thinking ahead is the best way to futureproof it.
4. Create a service catalogue
A service catalogue is a key element of your ITSM strategy because it details the IT service offering and how it connects to business processes within your organisation. A service catalogue also showcases the value IT brings to your business.
5. Hire a strong IT team
Finally, a strong IT team is what really makes an effective ITSM strategy. A mix of IT staff, developers and business strategists is vital to ensure communication between the IT department and the wider business.
Design the perfect ITSM strategy with ROCK.
Conclusion: ITSM as a competitive advantage
ITSM unlocks opportunities for growth by creating IT services that align with business goals and processes. Building an IT service that both employees and customers can trust helps organisations quickly adapt and respond to challenges and new objectives.
At ROCK, we offer customised, world-class IT management services, leveraging 30 ITIL 4 practices. We can transform your organisation with dedicated support, supplier and licence management, employee service centre, and technology road mapping. Explore our IT outsourcing services and find out how we remove the burden of technology.