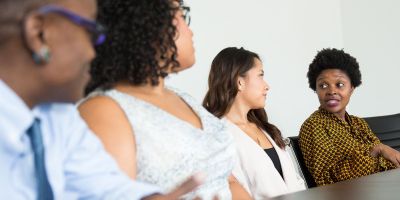 Diversity, Inclusion & Equality
We welcome and embrace different perspectives
Diversity, Inclusion & Equality
What we believe
We're committed to nurturing an environment that encourages diversity: celebrating all that makes us unique whilst coming together to form One Team, focused on human ingenuity and using technology for good. We believe in creating and accelerating fair outcomes for all. Always.
Diversity, equality and inclusion are crucial to unlock innovation, offering a wider scope of world views, perspectives and approaches to the problems that we, our clients and our planet face. Operating with integrity in our every action is a part of ROCK's mission, and diversity makes us stronger. Every one of our team members brings something unique to our value streams. We recognise the more diverse we are, the more we have to offer.
Creating equal opportunities
Fighting for gender equality
Fighting for gender equality
We're keen to encourage and support females in the technology industry. In 2021-2022 females at ROCK were paid on average 0.8% higher than males, representing a near perfect balance.
Recruitment, selection and assessment are based on skills and competency according to the specific role. Appointments are transparent.
An open, inclusive, supportive workplace culture, free of harassment, bullying and discrimination.
Proactively make adjustments and adaptations in the workplace as required, helping our people and our business to thrive.
Understand that presenting equal opportunities for all is not the same as treating everybody fairly, and approaching challenges with fairness can result in more equal outcomes.
Encourage a culture in which each person is valued for who they are, where all individual differences and contributions are recognised and celebrated.
To break down the stigma surrounding mental health, encouraging and supporting resiliency.
Work with community and voluntary groups to advance equality and directly tackle discrimination in society and the wider world.
Our CSR committee will dedicate their time to improving our workplace, our communities and the world: volunteering, fundraising and shedding light on diversity and inclusion.
Regularly review all employment practices and procedures to make sure they're fair.
ROCK's culture is built around continual improvement. Diversity, equity and inclusion are no exception.
We believe the future workforce is an equal one and are already a gender-balanced workforce.
We are constantly enabling change so everyone can contribute equally. Our people with disabilities have access to the latest technology, resources and training for a barrier-free workplace.
We embrace authenticity at work – including sexual orientation, gender identity and gender expression.
We take action to create more opportunities for employment and advancement for our people from under-represented communities.