In our previous insight about digital transformation in healthcare, we looked at how digital technologies can improve both patient experience and the learning and development of medical professionals. These technologies offer unprecedented opportunities to cure many previously incurable diseases and invest in proactive care and prevention.
However, with preventive medicine and wider treatment options comes an increase in life expectancy for the general population, meaning increased costs for healthcare systems. This calls for a radical shift to precision healthcare, designed to minimise inefficiencies and save money while saving lives.
According to recent research, paper records, prescriptions and wrong tests and dosages cost the NHS billions of pounds a year. By managing data digitally and leveraging the power of data analytics, hospitals would save money and improve the quality of their services. This insight will offer examples of the benefits of using data analytics in healthcare, detailing five ways to reduce costs.
Want to make accurate data-informed decisions?
1. Electronic health records
Electronic health records (EHRs) or electronic patient records (EPRs) are the most widespread application of digital data management in healthcare. They contain each patient's medical history and other vital information, essentially replacing paper records.
EHRs are stored in a protected system where healthcare professionals across the public and private sector can access them quickly. They can be modified in real-time, preventing data duplication. Digital records can also send alerts to healthcare professionals to remind them to check on a patient or repeat a prescription.
This way, healthcare professionals are able to spend more time with patients. Since they were first implemented in 2016, EHRs have reportedly improved staff experience as well as patient satisfaction, safety and privacy. Additional benefits include reduced payments for the supplier, wireless entry of vital signs and barcode identification of patients.
A case study on the implementation of EHRs at Imperial College Healthcare NHS Trust revealed that in the first two years (2016-2018) there was a reduction of £2.25 million on the health records budget. External printing costs also decreased by £310,000 between 2016 and 2020. This allowed hospitals to free up archival space that is now used for clinical and operational purposes, providing better care for patients.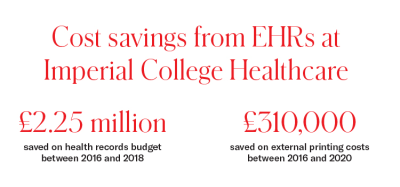 2. Decreased human error
Human error is one of the most significant factors in preventable waste of resources in healthcare. According to recent research, inefficiencies such as wrong tests and prescriptions, or even adding incorrect information to a patient's record can cost up to $300 billion to healthcare organisations in the US.
In the UK, as of 2020, there have been an estimated 237 million prescription errors in the NHS per year, 28% of which could have been avoidable. These errors are not just potentially fatal to patients, but have serious financial implications for the healthcare system, causing 1700 deaths and costing the NHS around £98.5 million a year.
Data analytics can quickly identify and prevent human error, for example by analysing prescription patterns and procedures as well as dosage range. Big data can also be used to improve drug prescription processes, for example by predicting if a certain demographic is more likely to get addicted to particular medications and adjust prescriptions accordingly, saving lives and money.
Moreover, predictive analytics is a valid tool to prevent data breaches caused by human error. Some studies show that 93% of healthcare organisations in the US have experienced multiple cyber security breaches in the last three years. To tackle the issue, many organisations have started using analytics to identify changes in network traffic and behaviour, predicting potential vulnerabilities. Thanks to data analytics, sensitive data and EHRs are kept secure and protected.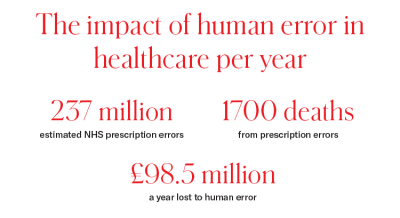 3. Improved logistics and supply chain management
Supply chain management is notoriously difficult for healthcare systems all over the world. A fragmented supply chain can cause issues in the delivery of care. Leveraging analytics tools to track supply chain performance could save the NHS several million pounds a year.
A crucial factor procurement teams need to consider when choosing a supplier is their ability to meet demand during a crisis, but up-to-date information on a supplier's reliability is not always available. Data science facilitates risk management and can make the NHS supply chain more efficient, protecting the system against shortages.
For example, natural language processing (NLP) methods can extract and make sense of each supplier's historic data, comparing them so hospitals can make informed decisions. Computers can generate a risk rating for each potential supplier, minimising risks for hospitals and generating cost savings in the long term.
NHS Digital is currently working with data science companies to incorporate NLPs into a healthcare procurement digital marketplace that could revolutionise the procurement process. NHS Supply Chain is also working to accelerate the implementation of digital solutions such as business analytics and data and cloud management software in trusts across England. In Wales, Digital Health and Care were created to provide technology and data services.
4. Smart personnel management
Determining how many people to put on staff for each shift is a recurring challenge for healthcare managers: understaffing can prove fatal to patients while overstaffing causes unnecessary spending. Big data can help solve this problem.
Through effective analysis of historical and statistical data, hospitals can accurately predict staffing demands for emergency care and other specific departments. The method has successfully been tested in selected hospitals in France, where data scientists analysed ten years' worth of admissions records to identify patterns and predict future trends. This resulted in mostly accurate daily and hourly predictions of the expected number of patients for each unit, allowing for equal distribution of staff.
Streamlining staff administration also keeps staff engagement high, preventing absences and low motivation. HR analytics can be leveraged to forecast when staff might be lacking in key areas, enabling investment in the right resources at the right time.
Moreover, by keeping track of employee performance with data analytics, healthcare organisations can identify the right learning and development opportunities, ensuring that each staff member consistently gets the right support and training.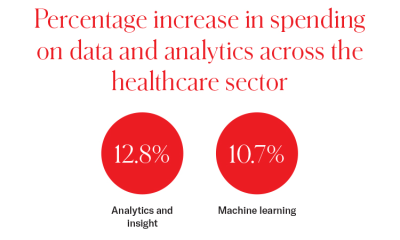 5. Strategic planning
The use of big data in healthcare facilitates strategic planning in a variety of areas. In particular, it provides insight into people's patterns and motivations to access healthcare.
By analysing test results and records among different demographics, managers can identify which treatments people access more frequently and, conversely, what discourages people from seeking treatment. This enables hospitals to better distribute resources to the right groups and areas, depending on demand.
Predictive analytics can also be used to identify which locations might be more affected by growth in chronic diseases and compare data with the available services in the area to make changes accordingly. Data analysis has the potential to make access to healthcare more equitable by aiding delivery strategies that cater to the entire population, including marginalised communities.
Lastly, data analytics can prevent unnecessary A&E visits. As mentioned previously, the interoperability of EHRs gives medical professionals access to patient data across different hospitals and units, saving time and money which would be spent repeating unnecessary tests. Increasingly, computer systems allow GPs to identify vulnerable patients who might be more likely to require unplanned hospital admissions. This allows healthcare teams to work together and coordinate preventive treatment, decreasing the chances of unplanned A&E visits.
Want to find out how your organisation can reduce costs?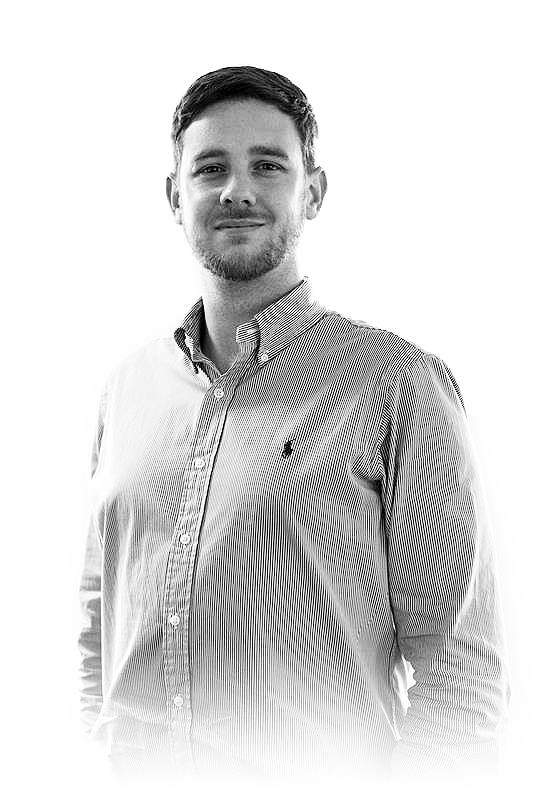 "The ambition of many of our Healthcare clients has been to continue to use and improve their data to enhance their understanding and enablement of their informed decision-making processes. This ultimately bridges the gap of inequality and allows people to have improved quality of health and life" - Lewis Murray, Enterprise and Public Sector Business Development Manager at ROCK
Conclusion: using data analytics to improve healthcare
Generating cost savings has become a top priority for healthcare organisations and the NHS especially. Using digital technology in the delivery of care helps reduce costs and save lives.
The NHS is increasingly investing in data analytics tools to improve efficiency and outcomes as well as streamline processes. From electronic patient records to supply chain management and strategic planning, access to better data and insights is key.
Connected systems and interoperable records create better outcomes and enable leaders to spot emerging trends across different demographics and areas. Gathering richer insights has the potential to radically change the quality of healthcare services by reducing costs, and allowing medical professionals to focus on patients.
References