The healthcare industry and national healthcare systems across the world have experienced unprecedented pressure in recent years, especially during the Covid-19 pandemic. Many HealthTech start-ups started investing in healthcare technology in the early 2010s, but the crisis in 2020 inevitably accelerated digital transformation to allow medical professionals to keep seeing patients during the lockdowns.
Recent research by Virgin Media Business, examining the use of information technology in healthcare in the UK, found that the benefits of digital transformation in operational areas are already showing. For example, AI is helping to streamline patient triage, enabling doctors to treat urgent cases more rapidly with lifesaving outcomes.
But what will be the real impact of information technology in healthcare going forward? In this article, we will answer seven common questions about how digital transformation can revolutionise and improve healthcare.
How and why has the healthcare sector adopted digital technology?
Before the Covid-19 pandemic, IT infrastructures in healthcare settings were outdated and for the most part not viable for regular use. Since 2020, leaders in the medical and pharmaceutical industries have had to invest in digital tools for collaboration, including cloud services, IT equipment and cyber security measures.

What was initially thought to be a temporary solution is now a permanent and extremely efficient system. Remote delivery of care allows practitioners to provide essential services like GP consultations and mental health support in a safe and accessible way.
While clinical settings will always be prevalent, IT solutions offer additional options that improve both organisational efficiencies and patient satisfaction. Since the digital pivot, patient satisfaction increased by 7.3% across the UK, and healthcare professionals have been able to find a better work-life balance, resulting in better performance and greater focus on patients in a digital workplace.
Data from the Virgin Media Business CEBR report on digital transformation 2021
What are the benefits of digital transformation in healthcare?
The benefits of digital transformation in healthcare reach far beyond primary care and relationships between doctors and patients. Investing in healthcare technology means opening up new possibilities for training without putting patients at risk or requiring a supply of cadavers.
Secondly, constant access to data from portable devices and wearables also allows doctors to have a much clearer and more complete picture of their patients' overall health, potentially speeding up the renewal of prescriptions and reducing waiting lists.
A third benefit is the use of technology such as virtual reality (VR) and augmented reality (AR) in care homes and private healthcare settings. A 2018 report commissioned by the Wales Co-operative Centre with Carnegie UK Trust, looking at the effects of digital inclusion on health and wellbeing, shows that VR and AR technologies are successfully being used to manage symptoms of mental illnesses, and can reduce treatment costs.
For example, residents at a care home have been able to revisit places from their past using an iPad and VR glasses, which significantly reduced their struggles with dementia. In the care home, the use of antipsychotic medication on an 'as required' basis stopped completely, and ambulance callouts (which cost the NHS about £300 each) were reduced by 28%.
Want to enjoy the benefits digital transformation affords?
What are the main IT trends redefining healthcare in 2022?
Digital transformation in healthcare is growing rapidly. According to the latest HIMSS Future of Healthcare report (Healthcare Information and Management Systems Society), around 71% of healthcare providers in the US are planning to increase investment in technology this year, and the UK is not far behind. The HealthTech trends set to transform patient care in the next year include:
Remote healthcare and virtual wards

Extended reality (VR and AR) for training and treatment

Data automation, AI and machine learning to get the most out of medical data
Personalised medicine and wearable devices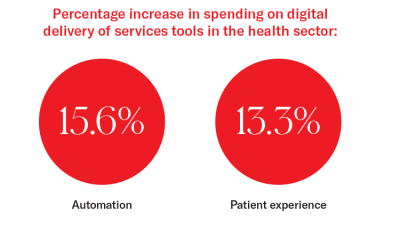 Data from the Virgin Media Business CEBR report on digital transformation 2021
How can digital transformation create better outcomes for patients?
As previously mentioned, overall digital healthcare ensures quicker service delivery and therefore increases the chances of lifesaving outcomes. Most importantly, the widespread use of apps and data ensures that the patient is involved in the process of diagnosis and treatment like never before. Wearable devices also allow patients to become more aware of their patterns and potentially make changes accordingly, to achieve a healthier lifestyle.
Will digital transformation make healthcare more accessible?
Based on predictions from the NHS and a recent study by Virgin Media Business, the answer seems to be a resounding yes. Whilst further research is needed to evaluate the full extent, the digital pivot following the pandemic allowed the NHS to save a considerable amount of money which is predicted to increase with advancements in preventive medicine.
The decrease in spending will allow to invest in better treatment options and reach a larger number of patients in shorter amounts of time.
This is fundamental in a landscape which saw a substantial portion of the public turn to private healthcare despite the rising costs of living.

Data from the Virgin Media Business CEBR report on digital transformation 2021
What does the future hold for HealthTech and pharmaceutical technology?
While technologies like AI and VR are starting to gain relevance in healthcare, scientists are already looking ahead to developments in the pharmaceutical industry such as nanotechnology and 3D printing.

With appropriate data collection, the pharmaceutical industry will be growing towards personalised medicine, creating 'polypills' that patients will be able to print at home, getting all the medication they need in just one pill.
Even though this might sound like something out of a dystopian novel, it is realistic to think that HealthTech will continue to have a transformative impact, and the benefits of digital transformation particularly in the pharmaceutical industry will become increasingly evident.
Are there any risks associated with digital transformation in healthcare?
Although we have already witnessed many of the benefits of digital transformation in healthcare, there is still little research on the impact on wider society, and predictions can only go so far.
Healthcare professionals are approaching innovation with caution and an awareness that technology will never be able to entirely replace human work. Staff training is key to ensuring the successful implementation of technologies like AI, and in many cases, the workforce currently lacks the necessary skills.
Cyber security is another area of concern, so it is essential that organisations rely on technology consultants to assist in the process of digital transformation.
Ultimately, though, organisations and business leaders in healthcare must look to the future without losing sight of current needs. The outcomes of digital transformation so far have been promising and if technology continues to make fewer mistakes than humans, there will certainly be better outcomes for patients.
However, the potential negative effects of excessive reliance on IT cannot be ignored. Firstly, if portable and wearable devices are to revolutionise point-of-care treatments and testing, clinics and hospitals need to adopt the necessary IT infrastructure to integrate large amounts of data in their workflows.
Secondly, this digital transformation would shift some of the responsibility for data management onto the patients. While a collaborative approach to healthcare would be a welcome change, the public tends to be sceptical about sharing data and there would need to be more education on the subject as well as changes to privacy laws. Moreover, digital healthcare can only become a viable, equitable solution by closing the digital gap that still affects many marginalised communities.
Lastly, there is a risk of going too far. With digital transformation comes a radical shift from reactive to preventative care, and there is a chance that technology will allow to make more or less accurate predictions on when someone will die.
This will have potentially detrimental effects on society as a whole, in addition to sectors like life insurance. As wearable devices put more responsibility on patients to make healthy choices, how can we make sure that access to healthcare stays equal?
Balance is key, and being aware of risks is the first step to a responsible digital transformation.
Find out how your organisation can embrace digital transformation.
Conclusion: developing a digital transformation strategy for healthcare
The Covid-19 pandemic inevitably accelerated digital transformation in healthcare, and HealthTech is set to gain an increasingly pivotal role in the delivery of care. Automation, AI, robotics, VR and AR will continue to shape the future of the NHS, social care, and other healthcare sectors, which is why it is essential to develop a digital transformation strategy ensuring a reliable IT infrastructure.
The implementation of HealthTech and digital solutions empowers staff to perform better in an increasingly digital workplace, delivering better care to patients with lifesaving outcomes. In this sector more than any other, with technology we can change the world.
References