Artificial intelligence (AI) is the development of computer systems that can perform tasks that would normally be done by humans. This includes things like identifying patterns and making decisions. The goal is to optimize processes and make them more efficient.
This technology is used to generate recommendations on Google, Facebook or Netflix, among other things, and it is becoming increasingly pervasive. It has produced life-changing results in sectors such as healthcare and energy, as we explored in previous insights, and investment in AI is predicted to reach £35.8 billion on average across all sectors by 2025.
Recruitment is one of the sectors that benefit most from the use of AI. The current economic climate can represent an advantage for the recruitment sector, as people change careers frequently and take up multiple jobs to sustain the increased cost of living. At the same time, hiring in the digital age means recruiters have to sort through thousands of applications, which can detract from other vital tasks.
AI-powered technologies can assist recruiters in these tasks so that they can focus on supporting a remote workforce and managing new candidate expectations. But how will the role of the recruiter change in the digital age? What are the benefits and challenges of implementing AI recruitment technology? This insight will answer these questions, highlighting how businesses can use AI technologies to recruit the right candidates and gain a competitive advantage.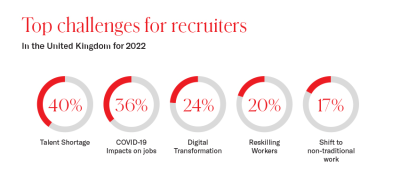 What is AI recruitment technology?
AI-powered recruitment technology helps recruiters optimise the time spent on candidate search and selection. According to research by the Society for Human Resource Management (SHRM), 75% of HR workers feel that they do not have enough time to analyse the candidate pool and recruit the right people. Many spend about 50% of their time on inconclusive applications, meaning that they often miss out on great talent.
Automating some of these processes can solve the issue, like in the case of Applicant Tracking Systems (ATS). An ATS is an HR tool which uses artificial intelligence to streamline the recruitment process, analysing the existing candidate pool and even generating tailored job analyses.
As well as facilitating data-driven decisions, automation allows recruitment businesses to have a candidate list at the ready when clients need it. Algorithms and keywords are used to sort through CVs and shortlist candidates, making the matching process quicker and more accurate.
Automation is also used to conduct a preliminary selection of candidates, schedule, and sometimes even conduct interviews. Chatbots are a widely used tool for this. They are integrated digitally through a chat interface which candidates can use to ask and answer questions.
Both chatbots and ATS gather data that can be used to generate personalised feedback reports for candidates, highlighting strengths and weaknesses. Crucially, AI recruitment technology can help reduce bias and optimise talent management throughout the recruitment process.
Benefits of AI in recruiting: will the recruiter's role change?
Automating the early stages of recruitment has become standard practice for many businesses, and it is estimated that virtually any process in HR management could be automated. According to research from Bullhorn, 84% of recruitment businesses had a digital transformation strategy in place for 2021, and growing numbers indicate that recruiters and candidates alike benefit from the use of digital technologies.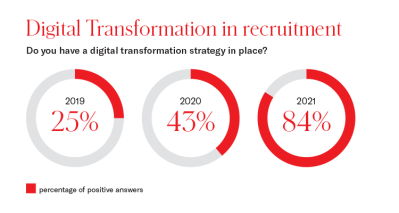 Benefits of using AI in recruitment include:
Saving time by automating repetitive tasks
Manually sorting through CVs remains the most time-consuming task for recruiters. By automating selection, candidate screening and interview scheduling, recruiters can spend less time on high-volume tasks and focus on the stages of recruitment that require human interaction.
Improved accuracy and effectiveness through AI-standardised matching
The use of AI recruitment technology reduces the likelihood of recruiting the wrong candidate, thanks to algorithms that assess the candidate's skills in relation to the requirements in the job advert. If used correctly, AI can also help remove bias from the recruitment process, while detecting behaviours and body language that might go undetected by the human eye. Additionally, at the job analysis stage, automation can generate an automated testing profile based on the initial job description.
Positive branding
Research shows that companies that use AI in their operations are perceived as adaptable and innovative by clients. Candidates are far more likely to apply for a position if they know the recruiter uses AI because it is perceived as saving time and effort as well as being fairer.
Improved candidate experience
Updates on the application process and candidate feedback can be automated for a better candidate experience, especially when an application is rejected. Without AI, candidates would rarely get feedback from recruiters due to time constraints. Automation saves time for HR and helps create a positive relationship with candidates. As candidates increasingly expect a streamlined recruitment process, the role of the recruiter will change.
According to Bullhorn's talent trend predictions for 2023, only 8% of surveyed candidates who worked with a recruitment agency will ask recruiters for knowledge and expertise that AI cannot offer. However, the human component is still important, with 28% of candidates trusting recruiters to find the right job for them. Recruiters will increasingly need to develop a new set of skills to not only streamline processes but also support a remote and digital workforce.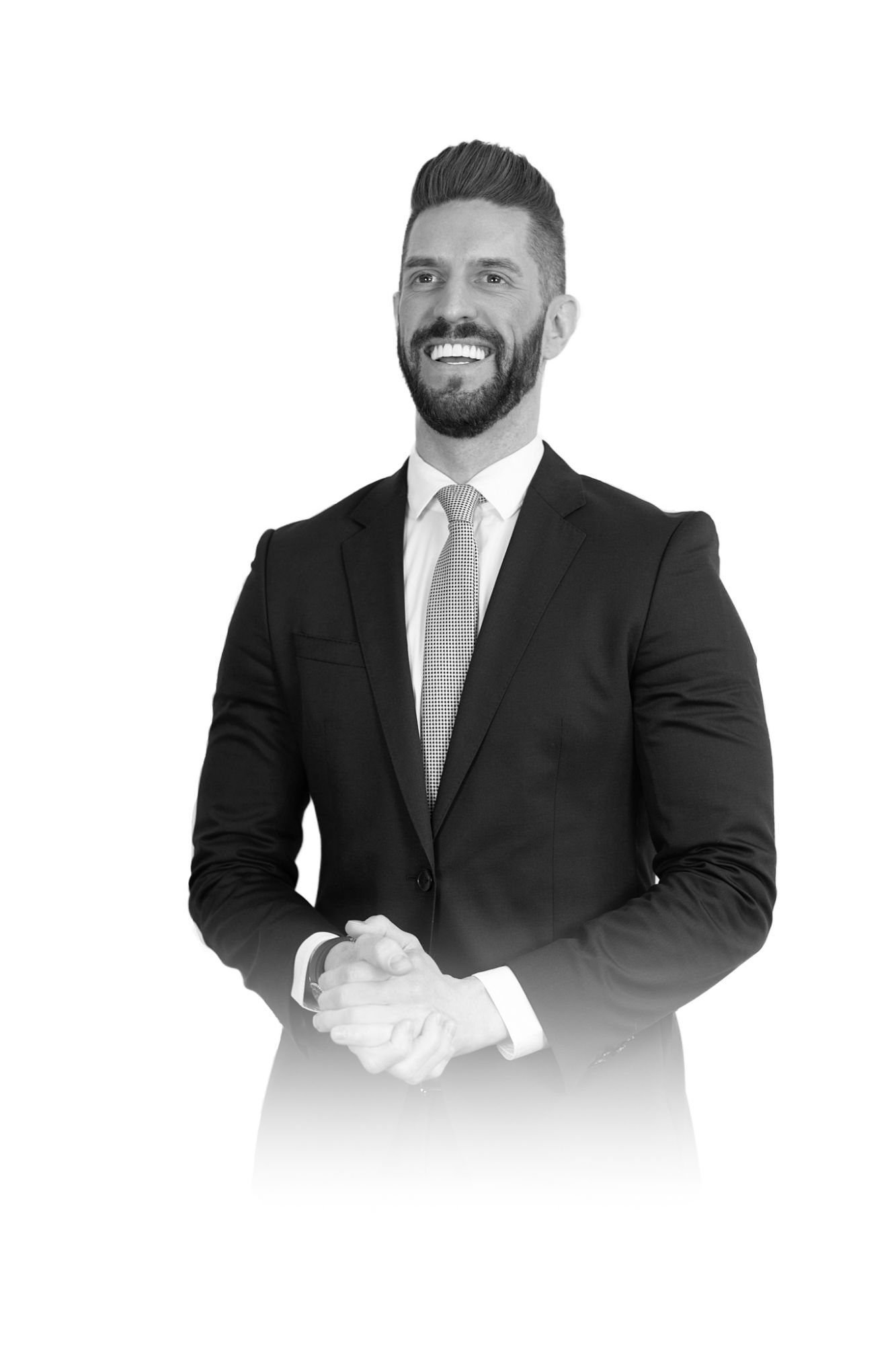 "AI became an important link in the technology lifeline—for some recruitment companies, a way to survive. We helped a global recruitment consultancy set up AI-based tools, including algorithms, machine learning, and advanced analytics, to map their post-covid strategy—where to find new skills and predict the new growth areas, how to optimise and automate processes to free up sales agents, and setup programmatic recruitment advertising to place job ads in online channels and spaces visited by targeted candidates". – Rob Dance, Chief Executive Officer at ROCK
Innovation in AI recruitment technology
Digital technology is set to revolutionise the recruitment process. Emerging innovations include:
Automated screening
Integrated automation within ATS software, such as SourceBreaker, allows for faster screening of candidates, and databases can be created to harness big data, make data-driven decisions, and establish specific keywords for CV parsing.
Chatbots
As mentioned earlier, chatbots are increasingly being implemented as a tool for the preliminary selection of candidates. Until recently, chatbots were used almost exclusively in customer service. Because they enable quick access to information with no need for face-to-face interaction, chatbots have been generally well-received and implemented in a variety of industries.
In recruitment, many companies have also started using it after candidate selection as an interview tool. For example, candidates are invited to have conversations with chatbots programmed to ask questions about company values and behaviours.
Additionally, the data from chatbots can be used to generate feedback reports for candidates, highlighting strengths and weaknesses.
AI and machine learning for interviews
Machine learning (ML) and artificial intelligence are used to train robots and automated software to conduct interviews. The training dataset is taken from top-performing candidates at the company for a specific role.
Companies then use online interview software or robots to assess the candidate's body language, speech patterns and word choices to determine whether they are a good fit.
Challenges to implementing AI in recruiting
Despite the promises of technology, there are currently several challenges to implementing AI in recruiting:
Data management
Training a machine to become as good as a recruiter requires significant amounts of data from CVs that have to be sorted manually first.
Secondly, there are ethical concerns about how AI software processes personal data. While ATS software is GDPR compliant, as of yet there are no clear regulations on many aspects of data governance.
AI can be as biased as humans
While AI recruitment technology promises to reduce bias by preserving a candidate's anonymity, AI functions by identifying patterns of behaviour. As a result, any conscious or unconscious bias that is already present in a company's recruitment process will be learnt by machines too.
Research shows that incorrect uses of AI have resulted in racially biased algorithms and gender discrimination. Many also worry that an excessive focus on body language might put neurodivergent and disabled people at a disadvantage, excluding a significant portion of the population.
It is important that AI vendors continue to develop their software to avoid biased behaviour.
Recruiters do not always trust technology
There is an understandable fear that AI technology will replace recruiters. However, the aim of AI recruitment technology should be to enhance recruiters' capabilities.
That way, they can focus on the stages of the recruitment process that require emotional intelligence. If anything, AI has the potential to assist businesses in making the recruitment process as human as possible.
Conclusion: AI recruitment technology will change how we think about hiring
Artificial intelligence and machine learning are set to revolutionise the recruitment sector. As recruiters face challenges such as talent shortages and supporting a remote workforce, streamlining parts of their workflow has become essential.
The main benefit of using AI recruitment technology is saving recruiters' time so they can increase productivity and build stronger relationships with candidates. Candidate experience will also improve, as they will be able to get faster and more personalised responses to applications.
To harness the benefits, companies need to embrace the importance of integrating digital technology into their systems to prevent issues with data management and improve operational efficiency.
Most importantly, though, companies should keep investing in people who understand the advantages of technology. A combination of human and artificial intelligence will always produce the best results.
Finally, AI should always be used ethically as a tool to counter our own bias rather than replicate them. Seeing these technologies as an aid to each step of the recruitment and talent management process is the best way forward.
References