It can be hard for companies to match their business strategy, goals, and priorities with their available resources and technology. A technology strategy helps businesses meet their goals by using available resources and implementing new solutions as needed.
A technology strategy is essential for businesses to succeed in today's uncertain and ever-changing environment. Without planning for the use of digital technologies, organisations risk falling behind their competitors, failing to meet their key strategic objectives, and losing profit.
As businesses face unprecedented financial and operational challenges, this is an ideal time to assess digital capabilities and find ways to improve efficiency, reduce risk, and increase profit. This insight explains the importance and benefits of a technology strategy and explores different kinds of strategies, outlining the steps for successful implementation.
What is a technology strategy?
A technology strategy is a plan that defines how digital technology can help a company achieve its business objectives. Just like a business plan, a technology strategy is key to future-proof organisations.
A good plan should underpin organisational objectives, detailing clear steps, principles and methodologies to achieve them. This is generally developed collaboratively by managers and executive teams, but leveraging expert technology consultants is recommended in order to implement the best solutions and ensure organisational thinking is aligned with industry best practices.
Strategic designing is not just about determining technology usage; a technology strategy also defines roles and responsibilities within an organisation. In essence, a well-developed IT strategy should answer questions about:
Budget
Timing
Reasons for using a specific set of technologies and vendors
Advantages of these technologies
Potential changes to organisational structure and opportunities for staff training
Any other organisational need in relation to business objectives, such as user impact and change management activities.
The goal is to outline how technology should support the existing business strategy and organisational objectives. Most strategies typically span over a period of three to five years, to ensure long-term business continuity. This approach has many benefits, as we will see in the next section.
What are the benefits of a technology strategy?
Most organisations do not have a long-term technology strategy. They rely on one-year plans that fail to align the organisation's technology and digital capabilities with their business goals. These plans rarely work because the purpose of focusing on technology is always to achieve business objectives, which cannot be done if the two are not aligned.
A well-designed technology strategy offers three main benefits:
1. Increased operational efficiency and cost savings
An IT strategy aims to establish a timeline for the implementation and use of technologies. New tools can result in increased output and employee performance, improved customer engagement and service, and better problem-solving capabilities.
2. Competitive advantage
When an organisation becomes more agile by strategically leveraging technology, it automatically positions itself ahead of its competitors. This can mean increased sales and profit for enterprises, or increased participation in mission and charity initiatives for non-profits.
Additionally, technology and business strategy go hand in hand: technology enables the development of new business models and innovative customer experiences. Without it, organisations can quickly fall behind their competitors.
3. Development of long-term business objectives
This third point is probably the most important for businesses right now. After the Covid pandemic, organisations have had to adapt in unprecedented ways to support a remote workforce, creating an environment that is conducive to the use of digital technologies.
A technology strategy must account for existing business plans, IT performance, organisational structure and financial justifications. A collaborative approach is also key to meeting the goals that matter most to stakeholders, such as environment, social and governance credentials. A detailed strategy can help support sustainability goals alongside business growth.
In the next section, we will guide you through the steps to implementing an effective technology strategy following ROCK's approach.
Is your technology strategy refined?
How to implement an effective technology strategy: ROCK's approach
Many organisations lack effective technology strategies, resulting in inadequate budgeting for IT and late recognition of synergies and dependencies. Our approach is based on the '3Ds' of technology strategy: Design, Develop, and Deliver. Our consultants help clients develop technology strategies, improve existing ones, or simply implement already approved plans.
Whatever your business needs may be, here are four essential steps to implement an effective technology strategy:
1. Define the scope of your technology strategy
This starts with building an IT mission and vision statement that reflects the business vision outlined on existing resources such as your company website, marketing material and business strategy documents.

A mission statement focuses on what your organisation is currently doing, who it serves and how goals are achieved. A vision statement looks to the future and directs the company towards what it wants to become. It is centred around the problem-solving and long-term impact on stakeholders.
Your mission and vision statement can help you decide what your IT guiding principles should be. These principles should take into account factors like budget, staff, and partnerships with clients. These will outline how IT can support your organisation in alignment with business strategy and set the foundation for your technology strategy.
2. Assess IT performance
This second step involves reviewing IT performance from previous financial years to assess strengths and weaknesses. Practically, it can include conducting a technology audit with a policy and process review, determining technology dependencies and usage, and evaluating potential risks. This helps build a clear roadmap.
3. Build a tailored key initiative plan
List initiatives that you will carry out with the help of technology. This might include improving client satisfaction, increasing sales capacity, or better managing corporate growth.
4. Design an operational strategy centred around technology
Finally, write and implement a strategy that centres around existing capabilities, future investment, budget and people. A refresh plan is a key component of this. Put a process in place to periodically reexamine the business context and realign your technology strategy with it.
This might also include reorganising your IT teams, which is why selling your strategy to the entire organisation is a crucial final step. The process will require frequently reviewing messaging and communication around your strategy, to ensure all staff and functions within the organisation are aligned with goals and schedule.
In summary, a holistic IT strategy should aim to regularly evaluate and improve business plans, IT performance (including data governance and risk assessment), and return on investment. There are different types of technology strategies. The next paragraph lists three examples of focus areas.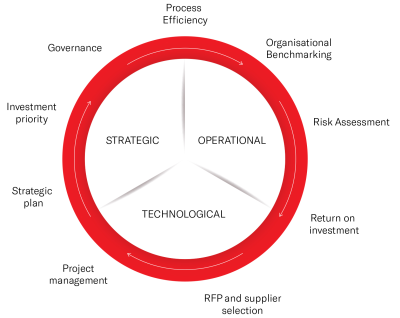 Examples of technology strategies for businesses
There are different types of technology strategies to solve specific inefficiencies and address vulnerabilities. At ROCK, we work on three main areas: cyber security, technology enhancement, and innovation. Here are three examples of projects we helped our clients complete:
Cloud and data integration
Data is a crucial asset for businesses, but many organisations struggle to manage different locations and datasets. A data-focused technology strategy helps you protect sensitive data by moving them to the cloud, establishing a single source of truth (SSOT), and harnessing the power of analytics to grow your organisation.
Communication and Collaboration
Supporting a remote workforce and client base can be a challenge. Many organisations struggle with outdated IT systems that make it difficult to implement collaboration tools. Using technology as a business strategy helps you stay on top of monitoring your systems, prevent issues such as system outages, and solve them quickly when they arise.
"Building and implementing an effective technology strategy needs to be one of the core pillars of any organisation's strategy - it enables growth and development that are fundamental to successfully achieving organisational objectives, developing capability and delivering benefits. We have been working closely with some of the UK's leading organisations in the public and private sectors and the needs and benefits of an effective technology strategy have never been clearer than they are today.

By building a discipline and an organisational culture that is poised for change, business leaders are able to react quickly to the daily challenges while making sure they are steering their organisation in the right direction and delivering the benefits outlined in the organisational strategy" - Rob McGoun, Head of Consulting at ROCK.
Infrastructure improvement
Innovation is key for organisations to keep running smoothly and meet the needs of their clients. Innovation-focused technology strategies can help you improve your existing tools and find new, cutting-edge solutions for your business. An expert consultant can help you plan and implement these strategies.
Most organisations face barriers to the implementation of an IT strategy because they struggle to keep up with the rapid changes in technology. Having a key area to focus on like in the examples above can help overcome the challenge.
Additionally, adaptability should be what defines a great technology strategy. After all, continuous growth means disrupting business models, and a lack of flexibility often results in missed opportunities.
Conclusion: why every organisation needs a technology strategy
As businesses face constant change in a climate of economic and geopolitical uncertainty, technology has become a crucial tool to remain competitive. This is an ideal time for organisations to examine their digital capabilities and implement a technology strategy that improves processes and looks to the future.
With an effective IT strategy that aligns with business goals, technology becomes a core factor in an organisation's growth, increasing operational efficiency and profit while minimising risk.
This allows business leaders to set and plan for long-term objectives, ensuring that all organisational functions are supported by technology, rather than having a siloed IT department.
However, developing a technology strategy requires a significant amount of additional work involving planning, budgeting, and reviewing processes within the entire organisation.
At ROCK, our experienced consultants can help build tailored technology strategies, assessing current capabilities and vulnerabilities to develop new scalable solutions. We design, develop and deliver projects with a collaborative approach, so you can prepare for the future without compromising on current goals.
References