In the digital age, cyber security is a major concern for businesses. Increasing numbers of organisations find themselves facing ever-evolving cyber threats as hackers exploit vulnerabilities to infiltrate IT networks and steal sensitive data. This is why vulnerability scanning is so important and should be part of every business' security operations centre (SOC).
Vulnerability scanning is the process of automatically identifying and assessing potential vulnerabilities within a system or network in order to implement protective measures.
This insight guides you through different types of vulnerability scanners, their benefits and limitations so you can make an informed choice to best protect your business.
Types of vulnerability scanning
A vulnerability scan is an automated test that searches for vulnerabilities in a system or network. These scans can be performed both within and outside the network to get a comprehensive view of potential weaknesses.
Because every business faces different cyber threats, vulnerability scanners need to be optimised to target specific areas of a network infrastructure. In order to determine which type of vulnerability scanner is right for your business, it is important to have a well-developed cyber security strategy and examine use cases for each type.
There are three main types of vulnerability scanners, categorised according to the area they target:
Infrastructure scanners
Infrastructure scanning solutions identify and test infrastructure services that are accessible to the entire network and/or the internet as a whole. They can include host discovery and port scanning. While infrastructure scanning might not be able to perform in-depth vulnerability scans on web applications, it is ideal to detect vulnerabilities caused by outdated software or encryption settings.
Web application scanners
These are specifically designed to detect vulnerabilities in web applications and services. Unlike infrastructure scanners, web application scanners can identify vulnerabilities in complex and even custom-built applications.
Native software scanners
Similarly, native software scanners can identify flaws in the construction and deployment of applications. However, native software scanners operate exclusively in an internal setting.
Unsure which scanning solution works best for your business? Let ROCK help.
Benefits of vulnerability scanning
Adopting a vulnerability scanning solution to monitor your network's security has many benefits, including:
Automation and speed
As well as being significantly faster than manual testing, automated vulnerability scanning allows for on-demand monitoring in response to changes in the infrastructure such as new software
Cost-effectiveness
Automated scanning significantly reduces costs and increases efficiency.
Accuracy
Bespoke scans can provide a thorough overview of vulnerabilities, making the information easily accessible.
Scalability
A vulnerability scanner in a cloud-based architecture can be scaled in order to carry out a scan within similar timeframes regardless of the size of the environment.
Regulatory compliance
Many vulnerability scanning solutions include the ability to test compliance with relevant information security standards.​​​
At ROCK, we offer vulnerability scanning for businesses of all sizes as part of our cyber security audit service. After the scan, each issue is categorised using the Common Vulnerability Scoring System (CVSS). The urgency of action is determined as follows:
High risk – immediate action
Recurring risk – scheduled mitigation
Challenging risks – temporary mitigation controls
Low risks – planned improvements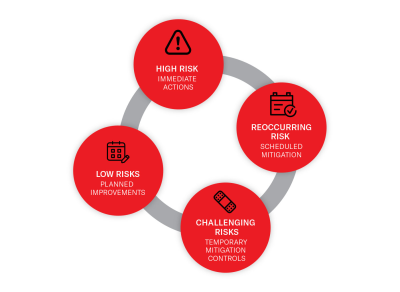 How to choose the right vulnerability scanner
There are a few factors you should consider when choosing the right vulnerability scanner for your network:
Deployment method
Vulnerability scanning solutions include an on-premise model or a vendor-hosted model. On-premise models require you to host the scanning solution on your own infrastructure, for example through a virtual machine (VM). While on-premise solutions make it easier to manage your data from a single location, they are not scalable and cannot manage peak demand.

Vendor-hosted solutions are software-as-a-service (SaaS) solutions that work in a cloud environment. If you do not mind having your organisation's security information retained by the vendor, this type of scanning solution is recommended because it enables scalability.
Coverage and responsiveness
Your chosen scanning solution should be able to detect vulnerabilities quickly once they are made public (usually within a few days). It should also cover all the categories of vulnerability that are relevant to your organisation.
Reliability
The scanner should be able to handle both an automated schedule and manual/on-demand checks, with reporting capabilities tailored to your organisation's specific needs.
Performance and scalability
Ensure your chosen scanning solution maintains performance at peak demand times and is scalable according to the required capacity.
Integration
Scanning tools should integrate easily with the existing infrastructure and with cloud environments where applicable.
Safety
If you are opting for SaaS solutions, ensure that your vendor guarantees no disruptions to the targeted services or provides an alternative when disruption is unavoidable.
Scan your IT network to outsmart hackers.
Conclusion: make vulnerability scans part of your Security Operation Centre (SOC)
As cyber threats affect an ever-growing number of businesses in any sector, preventing attacks and data loss has never been more vital. Vulnerability scanning allows you to identify weaknesses in your IT network and solve them before hackers can exploit them.
However, while vulnerability scanning is an essential tool to keep data safe, it is not a be-all-end-all solution for cyber security. Scanning tools should be implemented as a component of a wider cyber security and business strategy which includes a Security Operations Centre (SOC).
Consistently reviewing and updating your organisation's security policies and IT infrastructure ensures the safety of key assets. At ROCK, we offer top-class cyber security services to identify system vulnerabilities to prevent cyberattacks, assessing current capabilities and developing new scalable solutions.