Manchester is one of the UK's fastest-growing cities. Famous for being the first industrialised city in the world, Manchester is home to an ever-expanding number of businesses that rely on technology for their day-to-day operations. IT service management companies provide and maintain business-critical technologies, avoiding disruption and consequent financial losses. This insight explains why IT support is vital for organisations in Manchester, which type of support is right for your business, and how to choose an IT support provider.
The importance of IT support in Manchester
A well-functioning IT infrastructure is key to enabling business operations. IT support can monitor issues and solve them quickly when they arise. This is important as businesses are increasingly under threat from cyberattacks and many do not have a disaster recovery strategy, putting them at risk of downtime and financial loss.
According to a survey by Gartner, in 2014 the average cost of downtime was $5,600 per minute. In 2016, a study by the Ponemon Institute found that the figure grew to nearly $9,000 per minute. Seven years later, downtime costs keep rising as businesses rely on technology for an increasing number of vital tasks.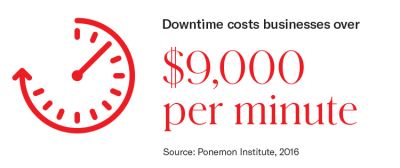 Identifying the right type of IT support and choosing the right provider protects your organisation while it keeps growing cost-effectively.
Types of IT support in Manchester
Here are a few of the services offered by IT support companies in Manchester:
Cloud and platform services
The cloud enables staff across your business to securely access information from anywhere. IT support companies can safely migrate all your assets to the cloud to increase productivity and efficiency.
Backup solutions
Cloud or on-premise backup prevents data loss in case of a disaster. IT support providers can help you choose the right backup solution as well as schedule and monitor automatic data backups.
Voice over internet protocol (VoIP)
VoIP allows employees to make calls using an internet connection instead of a phone line, facilitating long-distance communication. VoIP can be set up on a subscription basis and used either with traditional phone services or as an alternative.
Network security
A safe network prevents unauthorised access, cyberattacks and data theft. IT support provides services to protect your network, including:
Firewalls and antivirus software
Virtual private networks (VPNs)
Network monitoring
24/7 monitoring and service desk
IT support can monitor who accesses our business information, whether your IT infrastructure needs upgrading, and any technical issues that may arise.
Onsite and remote technical support
IT support can troubleshoot and repair devices remotely and/or on sites according to your organisation's requirements.
Technology training
Many IT support providers include staff training in their service offerings, so your employees can learn how to use resources efficiently.
Get customised IT support for your company
Choosing the right IT support provider in Manchester
Here are a few factors you should consider when choosing an IT support provider in Manchester:
Certified providers
IT support providers should comply with globally recognised IT service management standards, such as ISO, ITIL, and Microsoft Partner status.
Contracts and service level agreements (SLAs)
Your contract should detail how your IT support provider plans to work with your company and for how long. The SLA clearly states accepted response and resolution times, how to deal with support requests, and change management procedures.
Before making a decision, learn how your IT support provider will integrate their monitoring platform with your existing infrastructure.
Conclusion: protect your business assets with IT support in Manchester
IT support is essential for businesses to remain competitive in the digital age. From protecting key company assets to enabling collaboration, having a reliable IT support provider is vital for businesses in Manchester.
For example, an independent commercial caterer needed to fix their unreliable IT infrastructure and improve their ability to innovate. ROCK's IT management service gave them 24/7 support and reduced their IT costs by over 15%.
An infrastructure audit revealed neglected internal systems and mismatched employee devices. Recommendations included upgraded network infrastructure, unified endpoint management, and real-time monitoring.
This resulted in improved network reliability, superior communication and user satisfaction, leading to a 33% improvement in client retention and 97% of time-sensitive orders dispatched on time. In case of network failure, downtime was resolved within 25 minutes.
ROCK's IT support services remove the burden of technology, allowing your business to grow safely and helping improve customer satisfaction cost-effectively.
Partner with a certified IT support provider in Manchester