In the digital age, technology is vital for businesses to stay competitive and achieve their goals. However, the technology landscape can be difficult to navigate, so many organisations outsource their IT support to IT service management companies.
In an ever-expanding capital city like London, knowing where to begin when looking for IT support can feel overwhelming. This insight details everything business leaders need to know about IT support in London and how important IT support is for business operations.
The importance of IT support in London
IT support companies partner with businesses to ensure continual operations. This improves organisations' efficiency, adding a competitive advantage.
According to a 2019 survey by YouGov, 34% of UK businesses outsource their IT support, making IT the most in-demand among outsourced services. This number increased with the Covid-19 pandemic, as companies faced pressure to keep up with new technologies.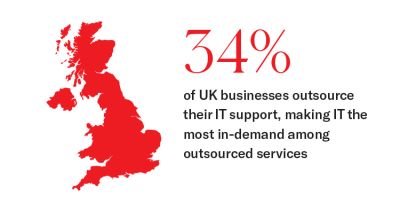 IT support companies offer a wide range of services, including:
24/7 system and network monitoring
System and network maintenance
Incident and risk management
IT Consulting

Having IT support in London is particularly important because it protects your company from downtime, cyberattacks and other factors that could pose a risk of financial and data loss. London, more than any other city, is home to key institutions in finance, higher education and healthcare. Cybercriminals target these sectors more frequently in London due to the amount of sensitive data, so protecting company assets with great IT support is fundamental.
Businesses that outsourced their IT support experienced the following benefits:
Reduced costs
Improved efficiency and productivity
Quick resolution times
Access to IT experts
Security
Scalability and flexibility

Are you looking to protect your company assets? Let ROCK help.
Choosing the right IT support provider
Here are a few things to keep in mind when choosing your IT support provider in London:
Look for a certified provider
While there is no official regulatory body, IT support companies should comply with accepted global standards such as ISO, ITIL, and Microsoft Partner status.
Check contract length and service level agreements (SLAs)
Your contract should detail how your IT support provider plans to work with your company and for how long. The SLA clearly states accepted response and resolution times, how to deal with support requests, and change management procedures.
Learn about their onboarding process
Make sure you understand how your IT support provider will integrate their support and monitoring platform with your current IT infrastructure and software.
Partner with a certified IT support provider.
Conclusion: save money and grow your business with IT support in London
IT support is essential for businesses to remain competitive in the digital age. From protecting key company assets to enabling employees to work remotely, having a reliable IT support provider is a must, especially in London.
For example, an independent architectural firm in London approached ROCK after facing repeated system downtime and slow incident resolution which hindered their communication and prevented field staff from operating.
ROCK's IT Management provided 24/7 proactive network monitoring, incident resolution within 8 minutes on average, and 99.999% uptime. Thanks to increased network security and speed, the client benefited from improved overall productivity and reduced downtime.
If you are looking to remove the burden of IT service management and improve customer satisfaction cost-effectively, look no further: explore our IT support services.