Digital transformation is the integration of digital technology in all business processes to change the way organisations operate and deliver services. The Covid-19 pandemic sped up the digital transformation process for many sectors; in finance, technology had a key role in monitoring cybercrime, while automated processes in the public sector allowed local governments to better allocate resources. The global market value for digital transformation is now predicted to hit $1 trillion by 2025.
Digital technology also picked up pace in the housing sector as the importance of homes as places to live and work became more evident than ever before. As the cost of living continues to rise and sustainability becomes a pressing concern, digital solutions can radically transform housing associations.
According to research from Inside Housing, 40% of housing associations and councils already have a digital transformation strategy in place, and 30% are developing one. From cost savings to improved customer service and optimised resources, housing technology has a life-changing impact on tenants and landlords alike. This insight explores four advantages of digital transformation in housing associations.

1. Reduce costs and increase efficiency with machine learning
Many housing associations currently rely on legacy systems for repetitive and time-consuming admin tasks. Automating the uploading of files or tenant management sequences with machine learning generates significant cost savings and enables housing associations to better allocate resources in the long run.
According to a 2018 report by the Chartered Institute of Housing, 46% of housing associations leaders said they were digitally transforming to reduce overall costs. Four years on, this number is on the rise as digital transformation has become essential to retain employees who prefer remote working.
Additionally, it is estimated that using traditional ways such as phone and mail to contact tenants costs £10 each time, while digital channels cost only 10p. Digitising communication with tenants saves money and caters to current tenant expectations, which brings us to the next point of customer service.
2. Improve customer service
The demand for digital transformation is coming from tenants as well as landlords. The Inside Housing survey shows that 80% of housing associations leaders saw a surge in demand for digital delivery of services over the past 18 months, and 90% said it is key for tenants to have a choice in how to contact their landlord.
Self-service is another key area of customer satisfaction as internet usage increased by 70% in 2020 alone. Implementing digital solutions such as chatbots enables customers to get nearly immediate answers to questions. This ensures that housing associations meet the demand for better customer service echoed in the UK government's Social Housing Whitepaper.
Additionally, research shows that face-to-face customer service costs around £14 per transaction, compared to 30p for the same service delivered via housing technology self-service platforms.

3. Better manage resources with digital platforms
While employees often fear that digital transformation in housing associations will cause job losses, investing in digital platforms for self-service leads to better resource management.
As staff spend less time dealing with customer queries on the phone, resources are directed towards improving outcomes for vulnerable tenants, who are the most impacted by the current cost of living and housing crisis.
Servicing repetitive queries less frequently also means housing support workers can focus on matters that require deeper investigation or a greater level of expertise.
4. Make data-driven decisions with housing technology
The fourth and most important way digital transformation in housing associations can revolutionise the sector is investment in quality data. According to research by Inside Housing, nearly 50% of housing association leaders feel that they lack quality data to make strategic decisions.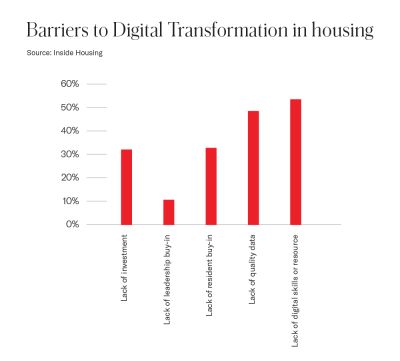 Critical data that acts as a single version of the truth is key for every organisation. In housing, data can be used to get the full picture for every tenant in a single database – from repairs to rent payment history and lists of vulnerable tenants and their needs. Having a reliable database is also essential in the first stages of allocation, to have an overview of available assets.
From construction to housing management, data analytics can be used to tackle the most pressing issues in the sector. Sustainability is an area of particular concern as 20% of carbon emissions in the UK come from the housing stock, making UK houses the least energy efficient in Europe, according to the Chartered Institute of Housing.
Housing technology can monitor and predict energy usage to guarantee efficiency and help contain the cost of bills for tenants. Additionally, new regulations will be enforced by 2025 to ensure that homes produce 80% less CO2 than those built under current regulations.
The latest housing technology connects to the Internet of Things (IoT), allowing for remote diagnostics and usage monitoring so that maintenance can be planned to avoid incurring in costly emergency repairs.
Sensors can be used to monitor indoor air quality, temperature, mould, identify tenants in need of assistance, and improve tenant care.
Looking to cut costs and improve tenant services?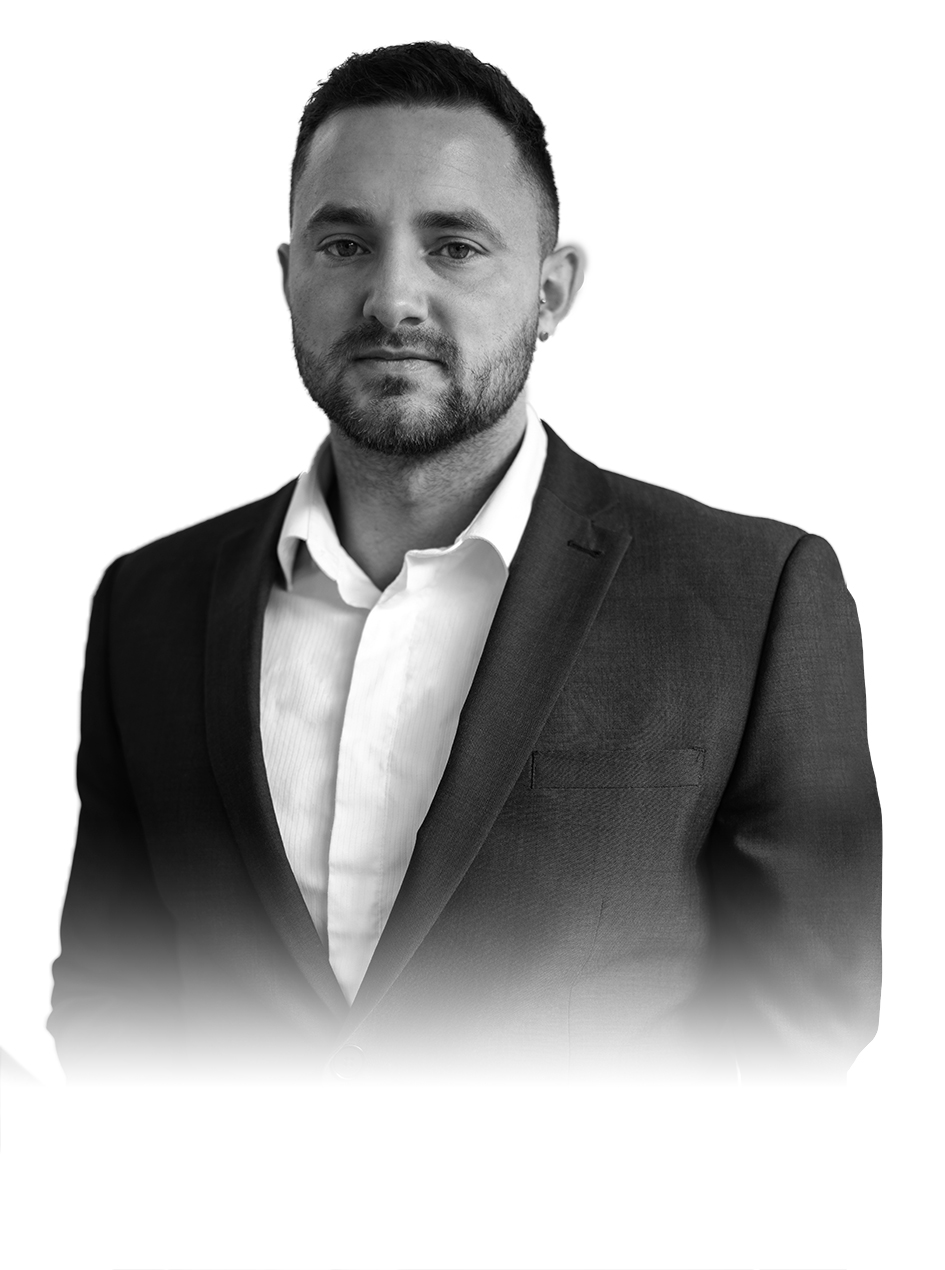 "At ROCK, we're seeing many of our housing association prospects and clients become much more digitalised and focus on the ability for residents to self-serve, ensuring a seamless resident journey and increased satisfaction. Using impactful digital technologies can allow staff more time to focus on meaningful tasks at a much lower cost point - allowing associations to re-invest into their residents' quality of living."

Anthony Giles, Enterprise Account Manager at ROCK
Conclusion: the impact of digital transformation in housing associations 
The Covid-19 pandemic brought into sharp focus the importance of our living environment, highlighting existing inequalities in society as well as the dangerous consequences of poor-quality housing.  
This was a catalyst for digital transformation in the housing sector. As associations strive to tackle pressing issues and support vulnerable tenants, housing technology is already proving to be a gamechanger.  
From streamlining processes with machine learning to improving customer experience with digital platforms, meeting tenants' needs and increasing safety with predictive analytics, housing technology creates better engagement opportunities and creates communities.  
Housing associations that choose digital technologies will have a competitive advantage, but it is important to keep in mind that not all tenants will be able to use them. Bridging the digital divide should be a priority for social housing landlords.   
References