The term supply chain technology refers to various digital solutions used in the management of processes for the production and delivery of commodities. The logistics industry is becoming increasingly reliant on supply chain technology as it confronts rising fuel costs, a challenging geopolitical landscape, and a worsening climate crisis.
Building resilience is now the top priority for companies looking to reduce costs and delays while embracing sustainability. As reported by Forbes, supply chain startups received over $7 billion from investors globally in 2022 alone. It is also estimated that venture capitalist funding for supply chain technology will surpass that for fintech in the next eight years.
Research shows that 70% of UK businesses are planning to adopt the latest technologies to overcome supply chain challenges in the next two years, but many still struggle to identify what to invest in and how to harness the benefits of digital transformation. This insight discusses the benefits of supply chain technology and explores the most efficient solutions in the industry.

What are the benefits of supply chain technology?
Supply chain technology helps organisations increase efficiency, improve customer satisfaction and cut costs from manufacturing to product delivery. As the UK faces unprecedented supply chain pressure due to Brexit and the COVID-19 pandemic, automation and data-driven solutions are essential to meet demand.
Technology facilitates data sharing between different departments and companies in the supply chain, offering a holistic view of the entire process, from raw materials and production to order management. Using software to collect data also enables companies to monitor and predict customer's buying trends, ensuring that they keep on top of their inventory.
According to recent research, companies using integrated supply chain management (SCM) systems, including integrated order processing, reported a 30% increase in productivity and efficiency. The Financial Times also reported that the benefits of SCM technology greatly outweigh the risks, as it helps companies become more adaptable and frees up workers from repetitive tasks. The next section explores a few of the most efficient SCM technologies.
Want to increase efficiency, improve customer satisfaction and cut costs?

Most used supply chain technology solutions
Effective supply chain management relies on a mixture of technologies that have been used for a long time and new technologies that have just started to emerge. This includes SCM software. The SCM software market value is predicted to reach more than $23 billion by 2027, and 84% of supply chain experts believe they are able to better serve their customers with data-driven insights from SCM technology solutions. With data being the biggest driver in the supply chain management market, here are six of the most used technology solutions.
AI for data analytics
Artificial intelligence (AI) and machine learning (ML) have been widely used for some time in industries like healthcare to predict demand and manage resources. The same need is now arising in logistics, a sector that is notorious for its extensive use of manual processes and data that can be difficult to centralise.
In the past, companies have tended to rely heavily on historical data for planning, but unprecedented events such as Brexit and the pandemic have rendered this method ineffective. Machines can gather data and present it in a clearer way that goes beyond creating a single source of truth (SSOT).
Once data is gathered in a single source, AI can develop and help predict a range of scenarios, models and implications in minutes, generating recommended actions. For example, AI can be used to choose carriers and plan routes, making sure assets are delivered on time and in the right place.
Overall, artificial intelligence plays a crucial role in increasing efficiency and improving customer satisfaction through things like stock monitoring. Stock levels are based on both real orders and predicted demands, which is where AI comes in.
While supply chains will always be unpredictable to some extent, stock monitoring with predictive AI can help save cost and resources. For example, pattern analysis for capacity estimations can help supermarkets reduce food wastage.
Internet of Things
The Internet of Things (IoT) is a network of devices that communicate and exchange information through sensors. In logistics, IoT devices are used for tracking and monitoring, often in combination with AI and AL.
Sensors can monitor all stages of the supply chain and product flow so companies can adjust production schedules. When it comes to transport, they are used for predictive maintenance of lorries and cargos by spotting anomalies and data inconsistencies.
Systems built on radio frequency identification technology (RFID) and GPS technology can provide real-time monitoring of assets in transit, including temperature checks. While IoT technology is still developing, research from Dataprot shows that 83% of companies who implemented the internet of things saw an increase in operational efficiency.
Cloud computing
Using AI and IoT technologies implies the presence of great amounts of data. The cloud allows stakeholders to access and share this data safely from a variety of devices all over the world. This way, companies do not need to rely on paper records or hardware storage that can cause data loss.
Find out which solutions are right for your business.
Process automation
Automation is being increasingly implemented in supply chain management. Software is used to automate repetitive tasks such as sending order emails and notifications when stock is low. Popular platforms include process management software for Enterprise Resource Planning (ERP) to automate back-office tasks and streamline workflows.
Warehouse management systems (WMS) automate and control day-to-day operations in a warehouse, such as inventory, picking and shipping orders. WMSs reduce errors in fulfilling orders, decrease the cost of shipping and managing inventory, and protect data, boosting efficiency and preventing security breaches.
Transport management systems (TMS) help streamline the shipping process by automating tasks and saving time while reducing costs on future shipments. Thanks to monitoring capabilities, these technologies can help increase sustainability in the supply chain.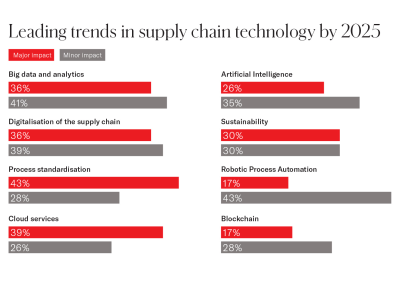 Blockchain technology
Blockchain is predicted to be one of the biggest gamechangers for transparency and sustainability in the supply chain, as it allows both companies and customers to track the entirety of a products journey, from the sourcing of raw materials to production and delivery.
Also known as distributed ledger technology, blockchain is a decentralised digital registry where every participant in a given network holds an exact copy of it. In the case of the supply chain, it can keep track of price weight, geolocation and quality, among many other details. Companies using digital databases can do the same, but blockchain is more resistant to tampering.
For every transaction, a new time-stamped block of data is encrypted and linked in a chain. A copy of this block is then distributed to all the devices across the network and can be accessed via an app, QR code or existing RFID tags.
The decentralised nature of blockchain allows companies to reduce their risk of data loss or corruption, as there is no intermediary (such as a bank) managing the data. Every transaction is closely monitored and approved the moment it happens, for example when a lorry crosses a border or a payment is made. By gathering specific parameters, blockchain can also be used to determine the right price for a product, protecting small producers.
Because the entire product journey is tracked, blockchain enables companies to make more responsible choices based on where the product comes from and which raw materials are being used. Most importantly, blockchain could help track the greenhouse gasses produced along the supply chain, which account for about 90% of a company's emissions.
However, knowledge of the applications and benefits of distributed ledger technology is still limited and mostly speculative. The hope is that supply chain transparency through blockchain will not only make companies more efficient and sustainable, but also allow consumers to make conscious product choices that align with their values.
3D printing
Finally, companies are increasingly reaping the benefits of 3D printing to optimise the supply chain. This technology is used mainly in high-precision sectors such as healthcare and automotive, as products are produced in small quantities near to end markets.
Conclusion: improving supply chain resilience through technology
The logistics industry faced unprecedented pressures over the past three years, due to the COVID-19 pandemic and global geopolitical uncertainties. This, coupled with talent shortages, means that companies are now forced to rethink the way they operate and shift from manual, inefficient processes to increasingly automated workflows.
From AI to IoT and blockchain, business leaders in logistics can harness advanced analytics to have full control over the entire product journey, improving efficiency and customer satisfaction while cutting costs. However, some of these technologies are still in development and are not free from risk. The process of digital transformation takes time, but understanding the potential of technology in supply chain management is the first step to building resilience.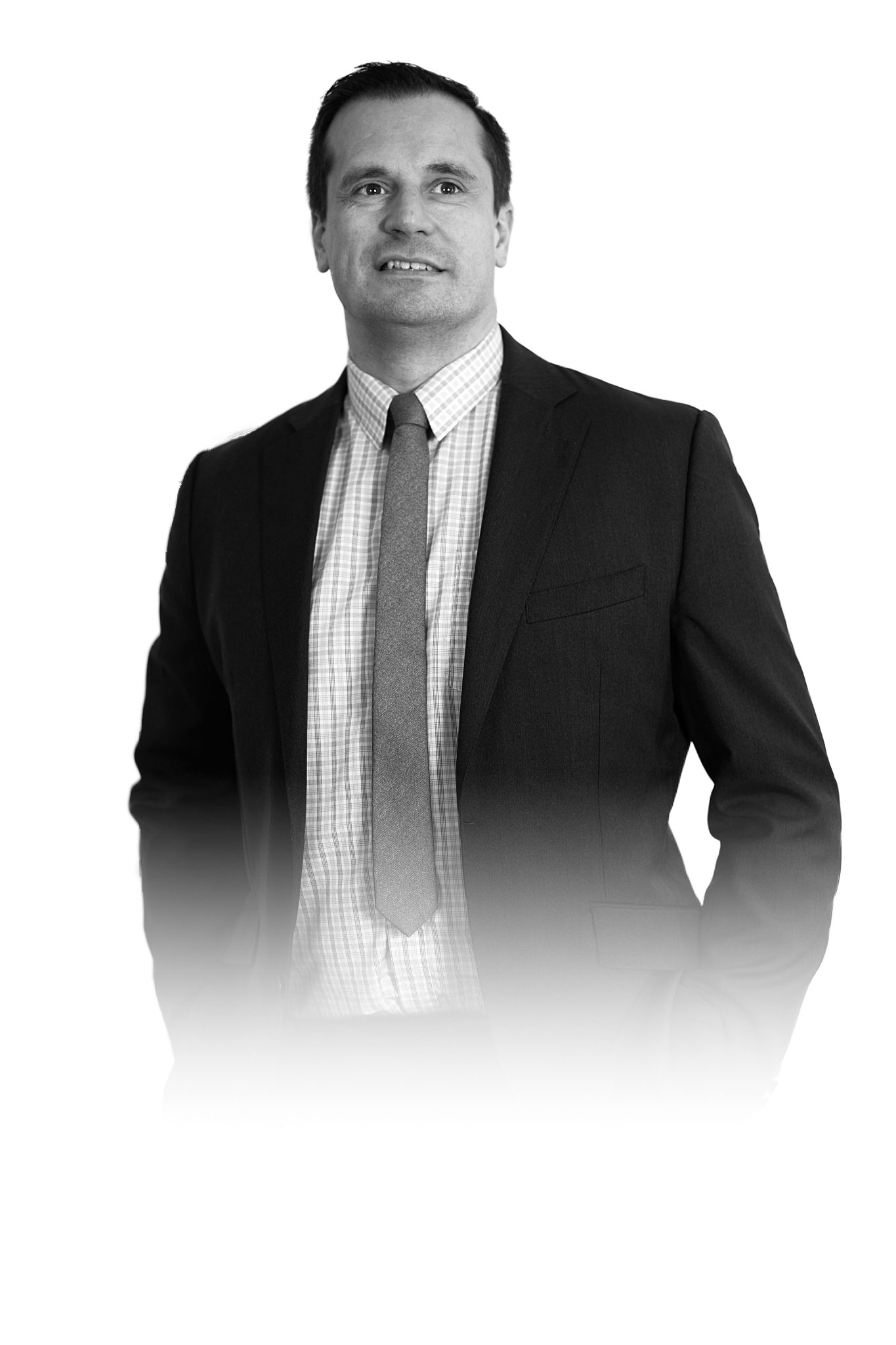 "At ROCK, we work with IT Managers and Directors from the logistics sector on a daily basis. An industry that never sleeps needs 24/7 support, which is something we take pride in as a huge catalyst for success. We also have seen more and more of our logistic clients driving dramatic need to reduce labour intensive costs by streamlining data capture and removing human error from processes. We actively encourage our clients and prospects alike to utilise digital solutions to enable real-time, actionable data access across their supply chain network."

Ian Elsbury, Managing Director at ROCK.
Gain full control over the entire product journey.
References