In today's digital world, customers have come to expect service outside of conventional working hours, meaning that businesses have had to adapt their working patterns to meet this demand. As a result, organisations increasingly need 24/7 IT support.
Many IT service management companies offer 24/7 support to companies of all sizes, so that if your Wi-Fi stops working in the middle of the night or you experience a cyberattack, the issue can be tackled immediately, avoiding costly downtime. This insight explains why 24/7 support is essential for businesses to stay competitive and what its benefits are.
What is 24/7 IT support?
24/7 IT support is around-the-clock technical support, available 365 days a year. It can include monitoring and maintenance of servers, networks, hardware and software, cyber security monitoring, data backup and so on.
Businesses often find themselves dealing with IT issues out of hours, especially when working on time-sensitive tasks. This hinders productivity and affects business-critical objectives. In 2022, nearly 10% of support tickets from ROCK clients were raised outside of office hours, showing the importance of partnering with a 24/7 IT support provider.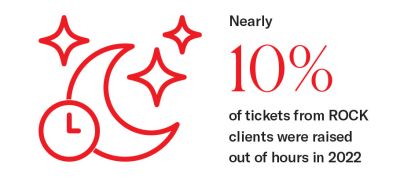 Benefits of 24/7 IT support
As we mentioned, 24/7 IT support boosts productivity, but that is not the only benefit. Internal IT departments are increasingly shrinking due to talent shortages, but due to the fast-changing technology landscape, they are also required to fulfil other functions such as strategic and business planning.
This leaves them with little time to provide consistent technical support. Outsourcing some of the IT support means that your company can keep growing and access technical support at all times. Companies that outsourced 24/7 IT support experienced:
Reduced staffing costs
Access to best-in-class technology experts
Improved response times and customer service
Increased productivity with a single point of contact providing support and scalable solutions.
Stay on top of your business goals with ROCK's customised 24/7 IT support.
Choosing a 24/7 IT support provider
Here are the main steps to choosing an IT support provider:
Assess your needs
Different businesses have different requirements. You may need someone who is available onsite or remotely around the clock or someone to call occasionally in case issues arise out of hours.
Look for a certified IT support provider
IT support providers should comply with recognised IT service management standards, such as ISO, ITIL, and Microsoft Partner status.
Check contracts and service level agreements (SLAs)
Your contract should detail how your IT support provider plans to work with your company and for how long. SLAs clearly state accepted response and resolution times, how to deal with support requests, and change management procedures.
Learn how your IT support provider will integrate their monitoring platform with your existing infrastructure.
Conclusion: grow your business and avoid disruptions with 24/7 IT support
24/7 IT support is a key resource for all companies, no matter how big or small. Being able to deal with staff shortages or unexpected system downtime out of hours is what ensures business continuity and prevents financial losses.
For example, a manufacturing company approached ROCK for assistance following a difficult quarter in sales. They were seeking IT management services and a review of their internal processes and IT infrastructure to improve their sales team's performance. ROCK recommended 24/7 IT support, a central dashboard for metrics, automation of lead distribution, and improved website performance.
As a result of ROCK's services, the company experienced a 23% increase in productivity and a 17% increase in monthly revenue from the sales team. Ninety-two percent of salespeople reported feeling more confident and prepared, and 87% of new leads were contacted within 23 minutes.
With ROCK's 24/7 IT support, you get the peace of mind you need to keep growing your business.
Partner with a certified 24/7 IT support provider.